Public Holiday for the University Department/Affiliated Colleges and Recognized Institutes for teaching faculty for the calendar year 2022.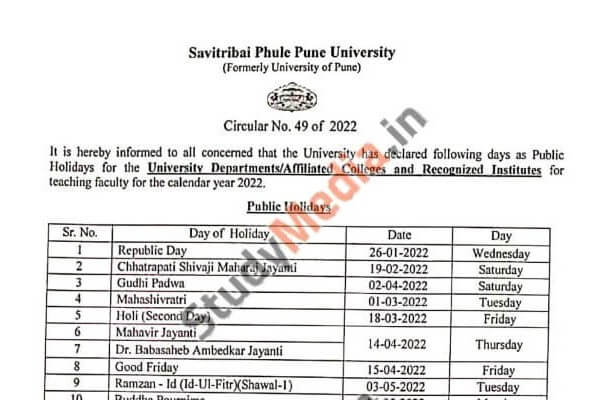 SPPU Published this circular on 17th Feb 2022, on unipune.ac.in, which serves the list of total holidays applicable to the universities affiliated or under Savitribai Phule Pune University.
The Government of Maharashtra has separately declared 16 Public Holidays for the year 2022 notified the section 25 of the Negotiable Instruments Act, 1881 (XXIV of 1881) as per Notification No. PHD. 1121/C.R. 97/Desk-29, dated 2nd December 2021.
The State Government has also decided to declare following additional holiday for the offices of the State Government, State Public Sector undertakings, Municipal Corporation, Municipal Council, Nagar Panchayat, Zilla Parishad, Panchayat Samittee and Village Panchayat.
Download List Of Holidays | Official Circular SPPU
Join Our Telegram Channel | Pune Engineers